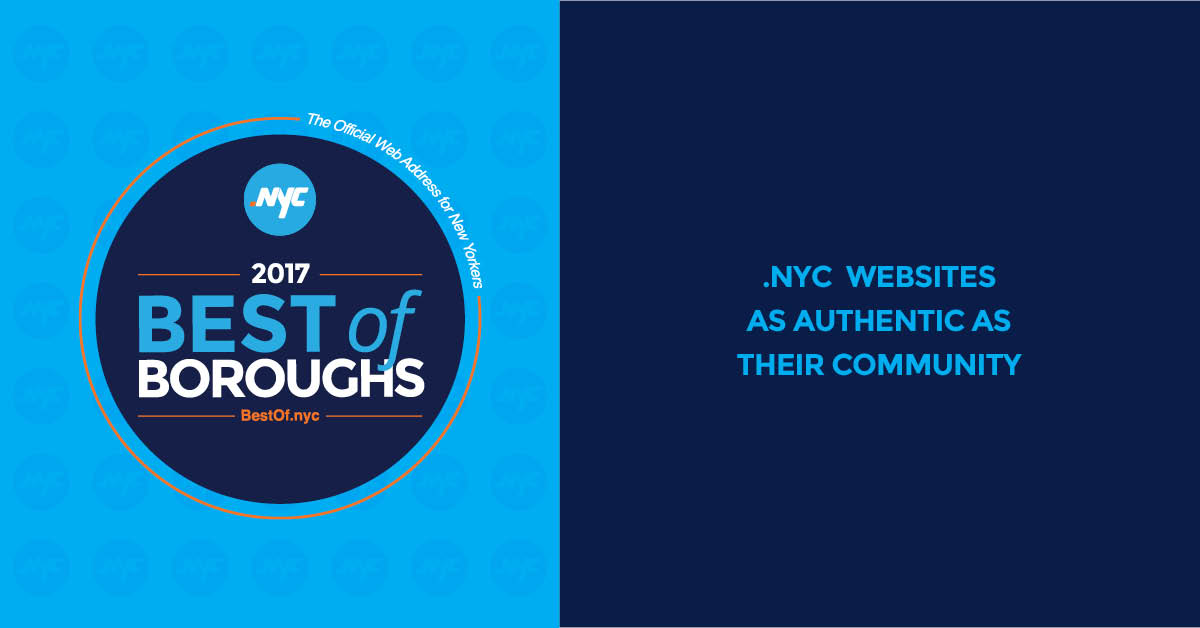 .nyc Best of Boroughs contest ran 2017 - 2020. You can view the winners below
2017
2018
2019
2020
In just few years, .nyc has grown to become one of the largest and most well-known top-level city domains in the world. But its incredible growth isn't what makes it stand out. Every day .nyc websites help people connect with the community in new and interesting ways. They're why .nyc has become an online destination that all New Yorkers can call home.
From sharing stories about NYC's rich history to gathering feedback on city services to listing local events, and everything in between – .nyc has become a valuable resource, full of the unique and the unexpected.
An exciting new contest
To celebrate this rich diversity, our team at .nyc recently announced our first annual "Best of the Boroughs" contest. This is a chance for businesses, community organizers, and individuals with .nyc websites to get the word out about what makes their business or brand so special, and how their work is contributing to New York City's rich and diverse digital landscape.
Perhaps your .nyc website creates a space for local businesses and communities to come together. Or maybe it provides a key service or advocates for an important cause. Or maybe you just run the coolest bike shop in the Bronx; or the swankiest salon in Staten Island. There are so many ways to enrich NYC's community. What's great about this contest is that it's open to everyone with a working .nyc web address.
NYC's community will chose the winners
When the contest opens on September 13, 2017, participants will have one week to submit an entry explaining why their website, business, organization or idea is the best of its borough. Then, community members will be asked to vote on the websites across the City. In the end, five winners will be selected, one from each of the five boroughs: Brooklyn, Manhattan, Queens, Staten Island and the Bronx.
What do winners get? Besides major bragging rights, winners will also enjoy a professional photo shoot with rights to individual images as well as a feature in an upcoming ad campaign that runs across NYC's public spaces and newsstands. Think of it as an enthusiastic "thank you" from our .nyc team, for helping to make .nyc the distinguished, iconic domain that it is today.
You are the face of NYC. It's time to share your story. Enter Now
Contest news, rules, and eligibility are all available at www.Bestof.nyc