Congratulations to our 2019 Best of Staten Island Winner
Community engagement is a core pillar of the Best of Boroughs contest. In a city of 8.5 million people, there's a lot of shared space, yet the city thrives because its citizens come together to make the most of what they've got. For Staten Island's Best of Boroughs winners DB Lampman and Scott Van Campen (MakerSpace.nyc), their cultural community workspace is a bedrock for Staten Island's artists, sculptors and inventors and anyone with the drive to create.
MakerSpace is a collaborative workspace for making, learning, exploring and sharing everything from metalworking to art. Anyone from artists, entrepreneurs, small manufacturers, craftspeople, inventors and dreamers are welcome to register for a membership and get access to dozens of tools, machines and educational workshops.
"Our mission is, 'To give people access to tools and equipment that they might not otherwise have,'" professes Lampman. "And we try to enable them to start small businesses and work on their own creative projects. Staten Island MakerSpace has helped thousands of creative entrepreneurs get their start, created a sculpture park in Staten Island, provided STEM and arts education to students all across the city and become a cultural anchor in Staten Island."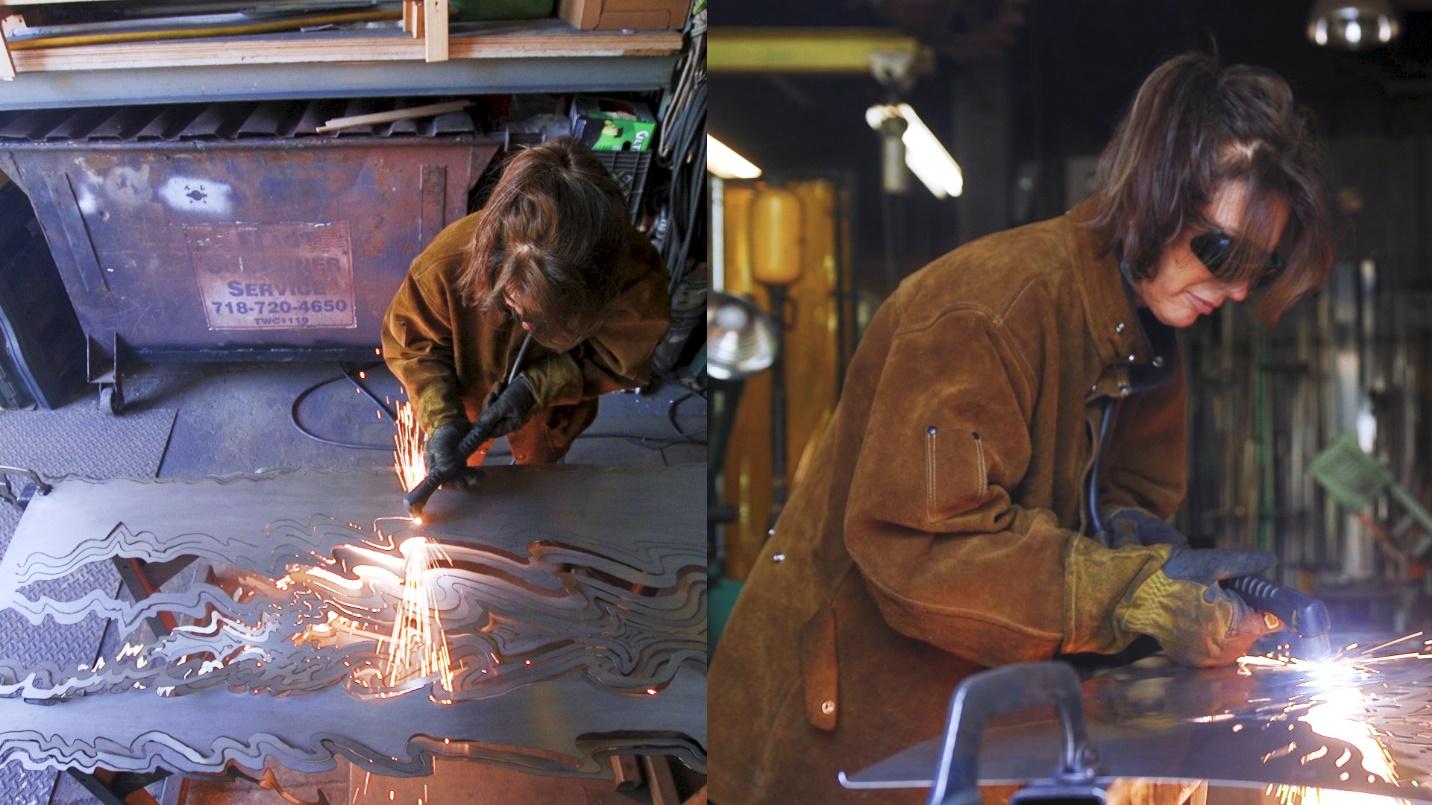 Members pay a once-a-month low-cost membership and have access to the plethora of presses, drills, ovens, CNC machines, lasers, printers and other metalworking tools in MakerSpace's vast arsenal.
Lampman, and husband, Van Campen, opened Staten Island MakerSpace in 2013 after ten years of working together in their own private workshop. Lampman had been bouncing around ideas with her husband on what to do to change things up when Hurricane Sandy brought three and a half feet of saltwater into their studio. Thanks to funding from the NYCEDC and the support of friends, neighbors and countless volunteers coming together to help with cleanup efforts, equipment restoration, and more, the public community MakerSpace proudly opened their doors in October of 2013.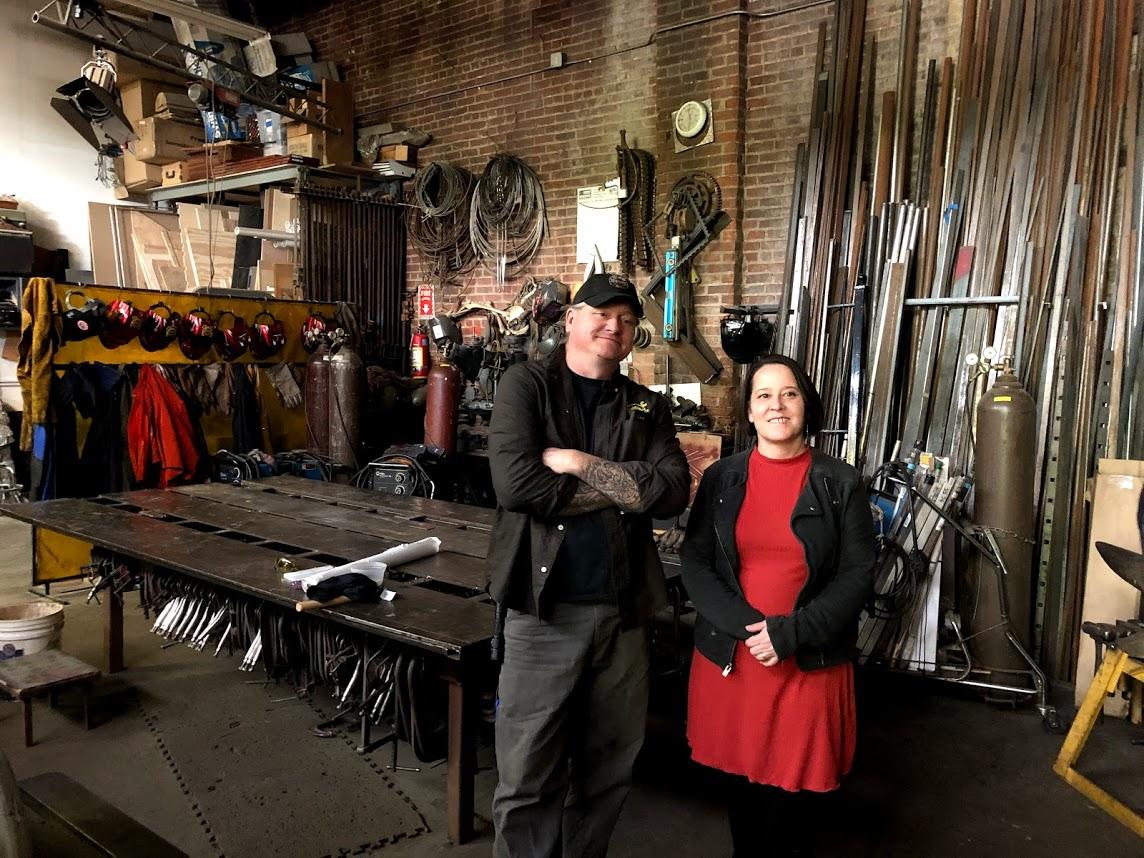 While the hurricane was not the inspiration to evolve their studio into a public space, it certainly was the catalyst. Lampman and Van Campen wanted to create a space where everyone in the community could have access to the same tools, resources and opportunities they had experienced over the past decade.
Lampman and Van Campen have seen plenty of incredibly talented makers working in their shared community space. "It's interesting to see the creative ways in which people use materials and use the tools," Lampman continues.
One member currently has been working on an intricate and rare experimental 1930s drum machine. The project involved a lot of research that required international travel too. This member had to travel all the way to Russia to find a piece he needed. He would then use the wide variety of tools and resources at MakerSpace to reengineer the drum machine. The member ended up making three different versions of this machine!
Another member, successfully built her business using MakerSpace machines. Luxury eco-chic baby teether and toy line, LexyPexy, started at the SI MakerSpace, perfecting protypes that would go on to sell prolifically around New York and, eventually, the world.
"She made them in the space for a while, but then she outgrew us! Which is kind of the point! That's our purpose. We help people. We incubate them to help get them on the road to something bigger. It's kind of crazy. You know it's nice to have machines and stuff, but it's all about the people that are in here working on their projects." - Lampman
One of their earliest members used the resources available at the studio to serve underprivileged communities, starting a campaign called Toilets for People. The founder used an open-source design, plus MakerSpace machines and routers to come up with his own design for a composting toilet prototype.
"Then, ultimately, he was going to developing countries, taking trips to set up these composting toilets in places that don't have working sanitation systems which was really cool. He would even go so far as to do all of his packing in our space and he would spread out everything and make sure he had every single piece he needed to bring with him to whatever country he was heading to," - Emily Perina, Director of Operations
In addition to community access, Makerspace goes a step further by offering educational curriculum to local students, adults and families. Programs provide access to knowledge and skills that can lead to successful long-term careers. "You don't have to be a member to take any class, so the easiest access point is to either come to one of our family programs or public events," adds Lampman.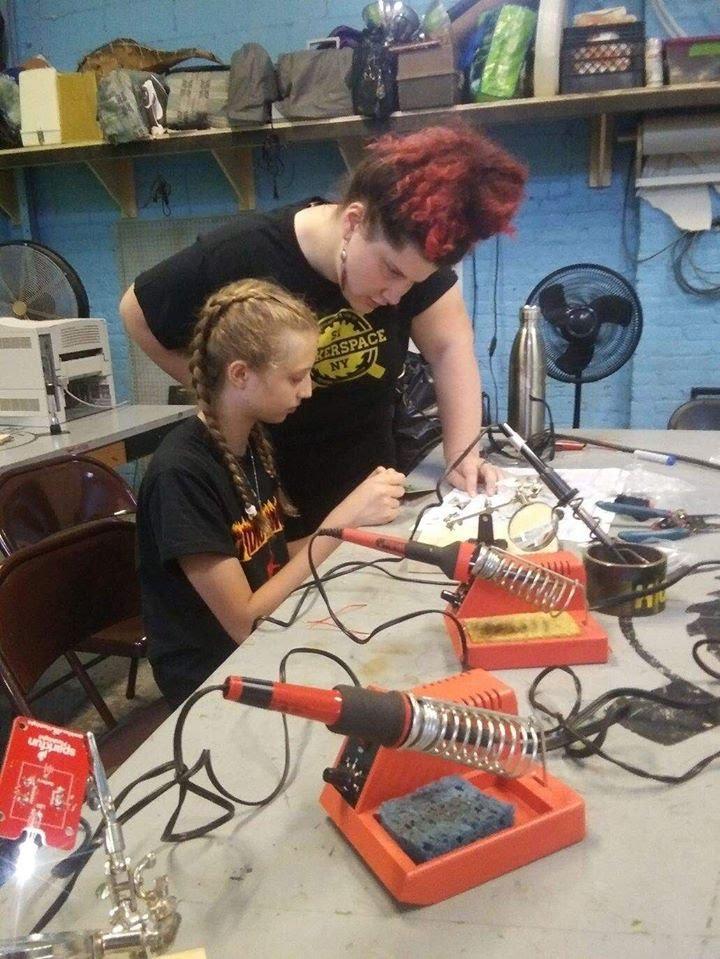 Perina expands, "And we offer classes on every single thing we have here so, if there's anything that people are interested in, chances are we do have classes in it. People can slowly start getting involved in the space with whatever their specific interest is in. They can be members, but we also offer day passes. So, we have a lot of different ways that people can interact with the space."
The MakerSpace crew also hits the streets to travel from school to school in their mobile MakerSpace vehicle called "The Steamwagon," which has a smaller selection of popular tools suitable for schoolchildren's education, learning and practice. Lampman and her MakerSpace team have instructed over 18,000 New York schoolchildren on the MakerSpace operating tools and machinery!
Teaching 18,000 kids in machinery is not something Lampman could have fathomed in MakerSpace's beginnings. "When we started it was just me and Scott and we had like one member in here. We didn't even have walls in here really and there was one member that had a studio in the corner that he just delineated by putting tape on the floor. When I look back over the years looking through pictures of stuff that we've done I think, 'I can't believe all of these things that we've done here.'"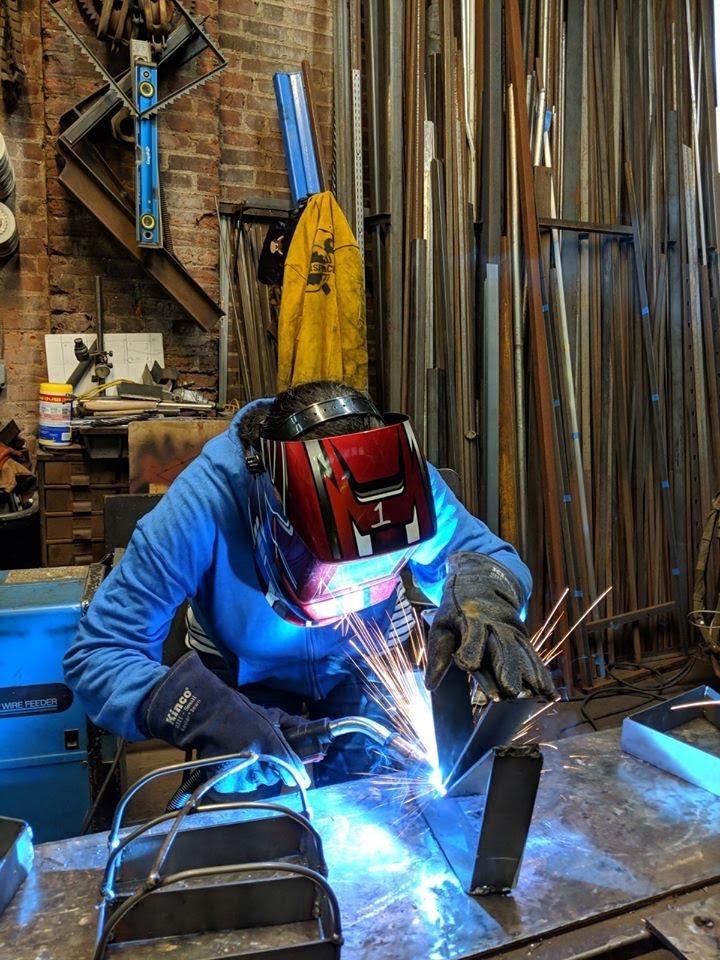 While Lampman and her husband were heavily involved in the art world, introducing their workshop to the wider public and getting the word out was one of the more challenging obstacles they had to overcome.
"One of the reasons why we went with the .nyc domain name was because we felt like it really tied in with the theme of part of the community and it helped us get the word out, too, that we were here," explains Lampman.
"When we first started, we would invite people here for sort of informal gatherings just to ask for their opinions and we ended up having people donate tools and equipment, and it just sort of snowballed out from there. When we were looking to start doing programs here, we would reach out to other community organizations and partner with them. I think my best advice to other people with ideas is just to reach out to your network and start growing it, because the more people you partner with you can grow your audience and grow the organization."
If there's one thing Lampman attributes to MakerSpace's success, it's their commitment to collaborating with other people in their community. Perina explains, "MakerSpace's being here is a huge asset to the art community that we have. Staten Island is not super small, but small in the way that everyone is kind of connected. So, when people are in our space working, everyone knows each other, everyone is talking to each other and collaborating, which I definitely think has come from the fact that we are in Staten Island."
What is MakerSpace thinking about making next? Well, with a recently opened new location in Brooklyn, all attention is focused on getting the word out to the local community that the space exists and is readily available for use. With 15,000 square feet of indoor space, the Brooklyn Makerspace is three times the size of the Staten Island facility. The new space has the same community focused approach but, also is being used to encourage entrepreneurship, advanced manufacturing and product development. Memberships can be used at both locations and are cross honored, so you can take a blacksmithing class in Staten Island in the outdoor sculpture park, and go to Brooklyn to use the water-jet cutter or the industrial sewing machines. The expansion into Brooklyn makes Lampman and Van Campen's workspace New York City's Largest and best equipped makerspace.
Congratulations to this duo for the Best of Staten Island win and looking forward to following the great things to come in Brooklyn and beyond. If you are interested in learning more, getting or gifting a membership of your own, visit www.makerspace.nyc.