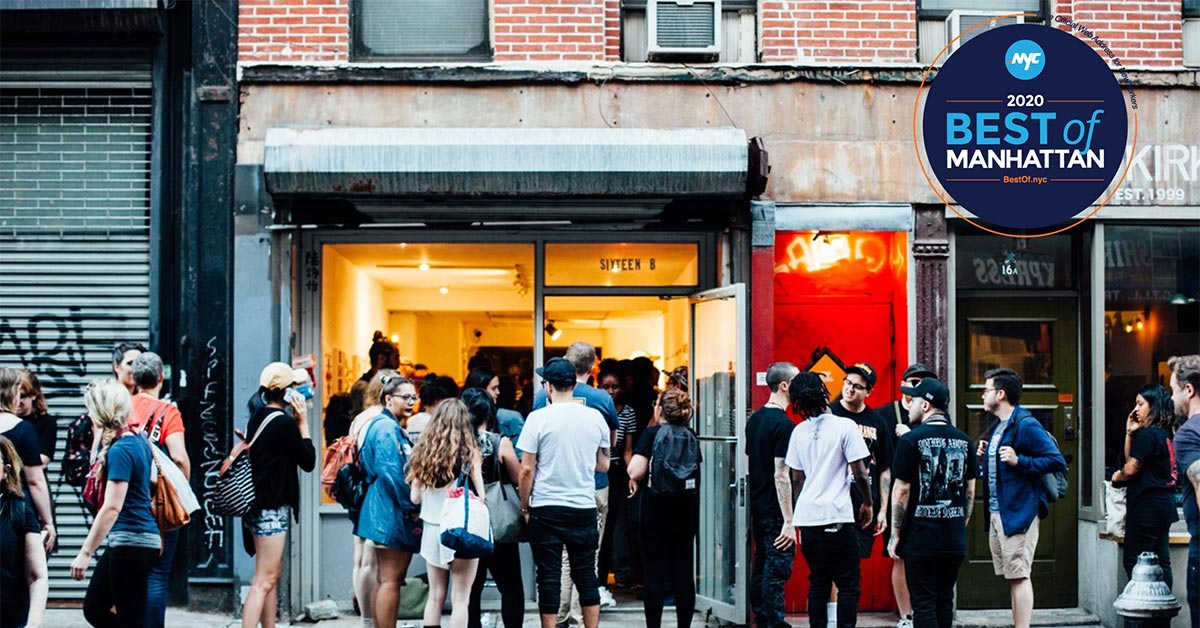 Congratulations to our 2020 Best of Manhattan Winner
For Michelle Marie Esteva, Chinatown Soup all started as a grad school project in 2014 and has since evolved into a volunteer-powered, not-for-profit organization that empowers local artists.
She has built Chinatown Soup as a grassroots, artist-run home for self-discovery and creative community. Today, the Orchard Street storefront hosts a gallery, pop-up cafe, and studio that can provide emerging artists with their first significant exposure, offer residencies, and present public programming with strong commitments to local communities.
Here, Esteva shares episodes from her entrepreneurial journey--and the digital-savvy tools that have helped make Chinatown Soup a hot part of New York City's small business community.
What motivated you to take the first step in launching your business?
To this day, it feels as though Soup launched through me rather than from me. As a native New Yorker, the integrity of the city's creative life force is near and dear to my heart. After being embedded in the history of Lower Manhattan with a focus on Chinatown as part of my graduate concentration, I was compelled to step outside academia and do something that would resonate in 'real life,' but the events that conspired to make Soup happen were beyond my control. I'm motivated by these unexpected synchronicities every day.
What was one of the hardest or most unexpected obstacles you had to overcome to get your idea off the ground?
Going from zero to one is tough enough to accomplish on an energetic level, let alone without any guarantee of success and financial viability. While unexpected help arrived from family, friends, and neighbors along the way, I had to return to the material world in order to manifest Soup, while also balancing communication and the labor of creation. Learning how to put aside the fear of failing and the desire of succeeding is essential to staying the course. It's the things that we do from a place of pure action that tend to have staying power.
Tell us about a moment you are particularly proud of in your business journey?
This is an impossible question to answer! Soup has produced countless moments of shared pride and joy. Our current project, 100 Nights (Calling Back) feels particularly in keeping with the spirit of Soup's mission. It's bringing together a wildly diverse, intergenerational group of visual artists, musicians, and activists to benefit grassroots, local food security initiatives in homage to The Clash. This feels like an inflection point on our business journey in terms of our organization's reach and ability to respond in a meaningful way. Come on by to get involved and visit chinatownsoup.nyc/100-nights!
Tell us how you helped keep your creative community strong and connected amid the pandemic, especially via online during shelter-in-place orders?
Negotiating an online presence during shelter-in-place orders presented a challenge that we chose not to address in terms of a programming transition. While we hosted a few Instagram Live events to support emerging filmmakers and zine publishers, we decided that in-person interactions are the core of what makes Soup special, and these cannot be replicated through social media. Instead, we chose to clean up our backyard space and built a garden oasis that would welcome folks back to our place when possible. It's a hit!
What is special/unique about running a business in your borough of Manhattan?
Compared to other boroughs, Manhattan has a reputation for being an impossible landscape to launch and operate a grassroots, creative business due to high rents and the challenges presented by gentrification. At Soup, we're proud to demonstrate that yes, a centrally-located, accessible, and independent space for artists can thrive!
Why did you choose the .NYC domain for your business?
Like everything we do at Soup, our website had to reflect the spirit of the greatest city in which we live, so we made the switch from .com to .nyc - the real ones know it's the coolest domain in town!
How have you used the .NYC domain to promote your business.
The Chinatown Soup website features the ways in which we uphold our mission to advance art, justice, historic preservation, and civic engagement in Lower Manhattan. Visitors may explore our organization's history, objectives, and various programming elements to get a sense of how this project has contributed to our local community and created new communities since its inception in 2014. However, there is always room for improvement! During the pandemic, we realized the importance of enhancing our website to better support the artists and activists who make Soup special, and part of this award money will go towards: 1) publishing a web shop for our resident artists to showcase their work; 2) organizing our community fundraising campaigns to broaden their reach and participation. We want there to be more Soup for you!
Any advice you can share for someone thinking of getting their own idea off the ground?
Remember that we are created creative, and you can invent new scenarios as often as they're needed.