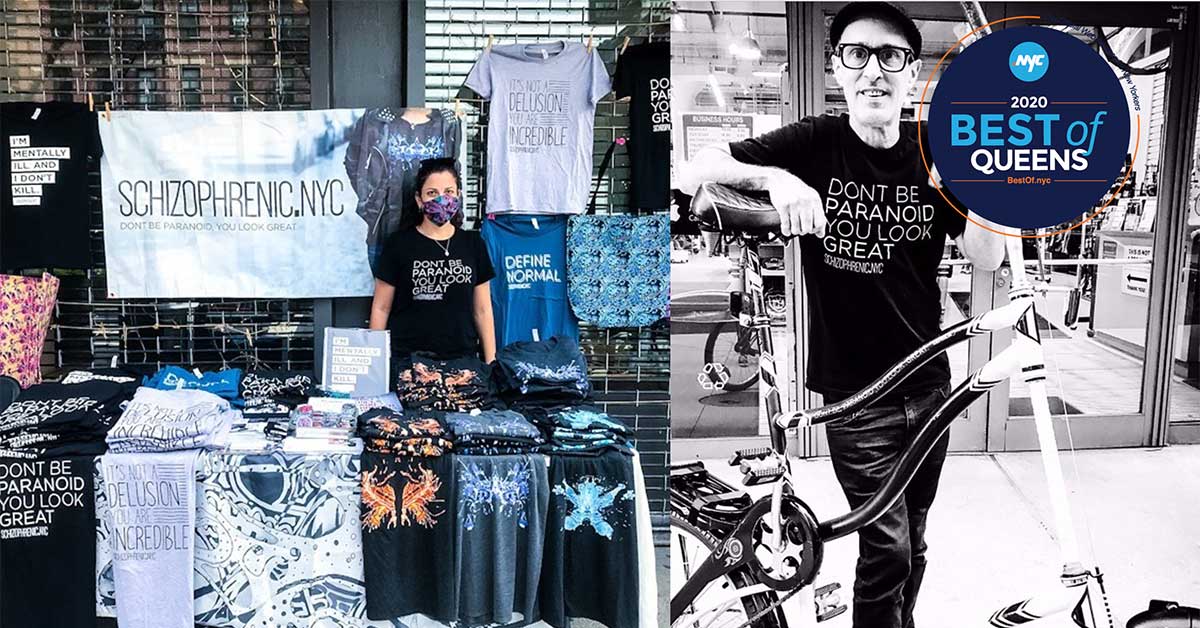 Congratulations to our 2020 Best of Queens Winner
Schizophrenic.NYC was founded and designed by Michelle Hammer, a Schizophrenic New Yorker who is on a mission to transform the way the mentally ill homeless are treated in the metro area. She also aims to change the way New Yorkers feel about mental illness.
Hammer was diagnosed with Schizophrenia at 22, after a misdiagnosis of Bipolar at age 18. At 27, Michelle decided to use her artistic talents, and fearless personality to do something that could benefit the mental health community. In May 2015, she founded Schizophrenic.NYC, which is a clothing line with the mission of reducing stigma by starting conversations about mental health.
Hammer explains her unique design inspiration: "Usually, the Rorschach Test is plain black. When a person with schizophrenia looks at this test or just goes through life, things are seen from a different perspective. What I did was by using my artwork in the test, I changed the colors and patterns so now everyone sees the test from a different perspective. This makes people think differently and starts a discussion. The more discussions about mental health we have, the less stigma there will be."
In addition to clothing, Schizophrenic.NYC also produces topic-related videos and podcasts. Hammer after all has deep roots in content creation. She was featured in the WebMD documentary Voices, which was nominated for a Tribeca X Award at the Tribeca Film Festival 2018. Michelle has also been featured in Mashable, The Daily Mail, Stylist, and Buzzfeed to name a few.
Here, the founder shares more about her mission, inspiration and advice to other entrepreneurs:
.NYC: What motivated you to take the first step in launching your biz?
Michelle Hammer: I learned from working in over 15 different graphic design jobs in 5 years that I was capable of creating my own business.
.NYC: What was one of the hardest or most unexpected obstacles you had to overcome to get your idea off the ground?
Hammer: Telling the world you have Schizophrenia is never easy, but becoming a role model is worth it.
.NYC: Tell us about a moment you are particularly proud of in your business journey?
Hammer: When I get emails or messages from people who follow me telling me how much I have helped them.
.NYC: Tell us how you helped keep your mission and community strong and active/connected amid the pandemic, especially via online during shelter-in-place orders?
Hammer: Staying active online and social media.
.NYC: What is special/unique about running a business in your borough?
Hammer: I have access to all of New York City.
.NYC: Why did you choose the .nyc domain for your business?\
Hammer: It is an awesome domain name in the city that I love. And of course, NYC is technically included in the name of my business.
.NYC: Any advice you can share for someone thinking of getting their own idea off the ground?
Hammer: "Go for it."