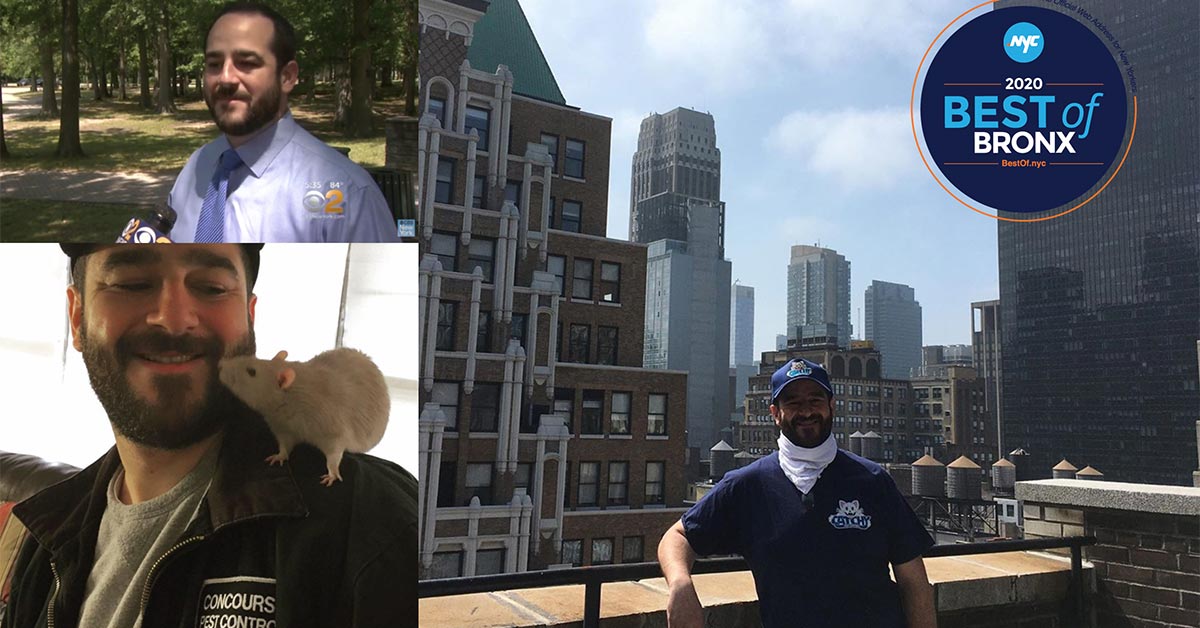 When quarantine was implemented in early March, everyone kept an eye on how this would affect all types of industries, especially retailers and restaurants. But little did we know how this would shine a light on one of the most essential services to any bustling, metropolitan area.
After more than a decade in operation, Brendan Goldblatt rebranded Concourse Pest Control (named for the Bronx's famous Grand Concourse) into something a little more… Catchy. While Brendan kept abreast of the latest pest control techniques, his brother, Frank, joined Catchy Pest Control to streamline the delivery of customer services. This division of labor between brothers would serve them best in 2020, their busiest year in business.
"During the pandemic everything ground to a halt until about six weeks in, when pest problems got out of control in New York City," says Frank. "That's when we were able to reach our clients."
He and his co-owner/brother knew the infestation stemmed from the biological nature of rodents. "Mice and rates are extremely territorial. In fact the same family of rodents will occupy the same set of garbage cans for generations, so when restaurants closed, they ran into people's homes and into the streets, and even ran around fighting each other, to find new territory and food supply."
Dismayed residents and rumbling rodents caused the governor to recognize pest control as an essential service. "That moment made us proud. We knew we were an essential service for years because we are addressing a sanitary, health and safety issue. Disease is spread by pests and we take that very seriously," says Frank.
While Catchy is based in the Bronx and focuses heavily on the borough, the duo also serves across New York and New Jersey. To emphasize their far reach, the business owners secured an additional web domain, PestFree.NYC, which redirects to their main website.
"We love the .NYC domain, it expresses what we want for all New Yorkers, which is a pest free NYC," says Frank. "It is easy to remember, helps people find us easier, and makes it easy to advertise with it." Most importantly, it reflects that they serve New York City at large.
In addition to serving the metro area during a citywide pest crisis, the co-owners of Catchy are proud of a recent revamp to their website, which was designed by a cousin.
"Yes, we are a family business through and through," says Frank. He and brother Brendan gave their web designer clear instructions on the redesign. "We wanted the new site to be clear about the services we provide and wanted to make it clear and concise," he adds. They wanted to make sure people with pest problems had all the information they needed before enlisting Catchy's services, so they added general information and resources, as well as an FAQ section on common pest control issues, news and solutions. "We even added a brief history of pest control, from ancient times to present day."
Frank says they also provide information on their overall strategy to pest control. "We use an approach called 'integrated pest management.' Instead of just traditional poison and pesticide we find where pests are entering the building and close that off so we nip it in the bud."
After all, while staying on the cutting edge of web design and online marketing is important, staying up to date on the latest pest control techniques will always be top priority.
He shares some advice for anyone seeking to thrive as a business owner in New York City: "Always be reliable, and always be honest with clients."