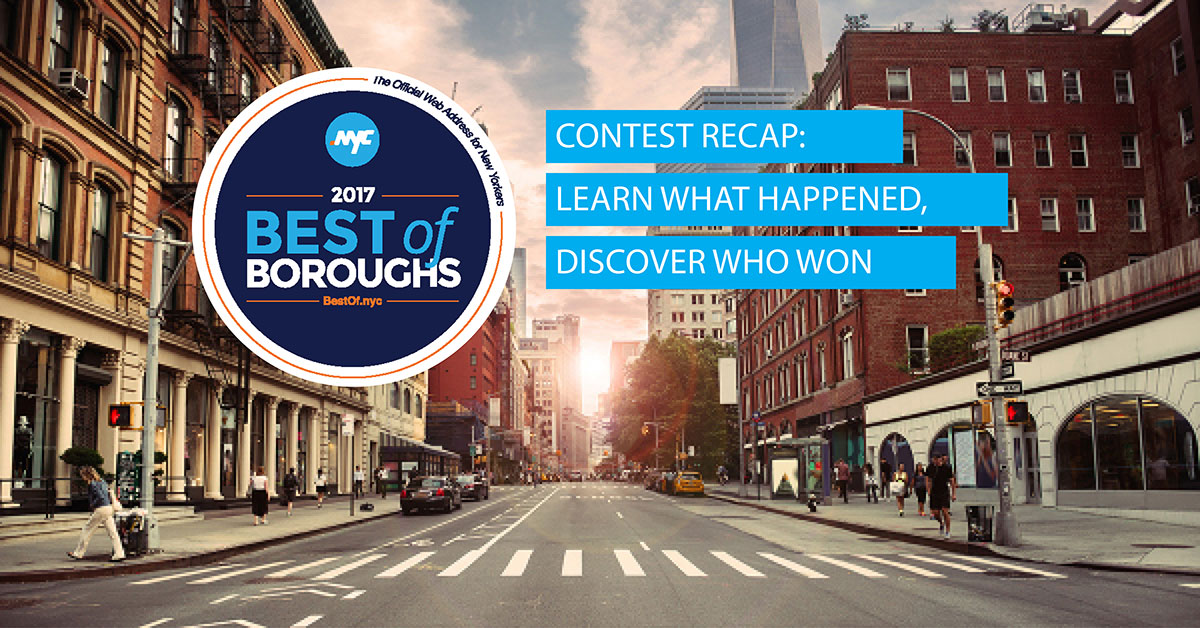 .nyc Best of Boroughs contest ran 2017 - 2020. You can view the winners below
2017
2018
2019
2020
From sharing stories about NYC's rich history to listing exciting local events, and everything in between – .nyc has become a valuable resource, full of the unique and the unexpected. To celebrate the community that makes NYC on .nyc, a few months ago we launched the inaugural "Best of Boroughs" contest.
We are excited that the NYC community and local city representatives turned out to participate and share their contagious enthusiasm for NYC and their businesses, making this contest an incredible success. Now that votes are tallied and the results are in, here's a recap of what happened, as well as some highlights from the 5 winning submissions.
Contest announced
The Best of the Boroughs contest opened on September 13th and ran until September 20, 2017. Prior to the launch, we worked on spreading the word by running awareness ads across NYC. Businesses, community organizers, and individuals with .nyc websites were invited to submit their entries, explaining the inspiration behind their websites and how they contributed to local communities.
All in all, more than 4 million impressions went out with placements in local publications, such as the Brooklyn Eagle and the NY Post, in bus shelters and on digital sites, like DNAinfo. The community and businesses themselves rallied behind our efforts to help spread the word through social sharing, newsletter announcements and word-of-mouth outreach.
A big community turnout
When the window for submissions closed on September 20, the contest had received more than 70 entries, and when it came time for local communities to vote, contest engagement levels skyrocketed. Upwards of 10,000 people across NYC's 5 boroughs cast their votes for favorites!
To ensure fair and equal voting for all contest entrants, a panel of city and borough representatives reviewed and scored entries for the selection of final winners.
Winners receive honors and perks
On October 16, 2017, the winners were announced. The next day, on October 17, they attended a celebration at .nyc's New York City offices where they received an official "2017 Best of the Boroughs Winner" plaque distributed by City representative Mark Thomas, along with a .nyc "swag bag" filled with goodies. Some of our favorite photos from the event: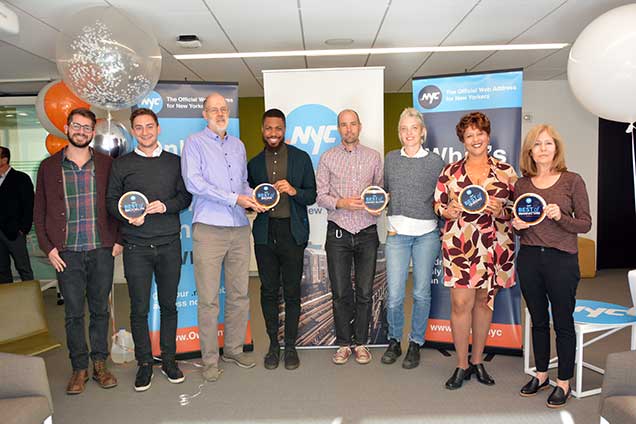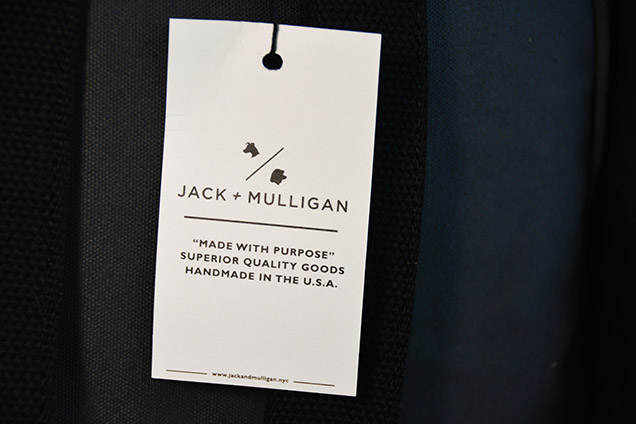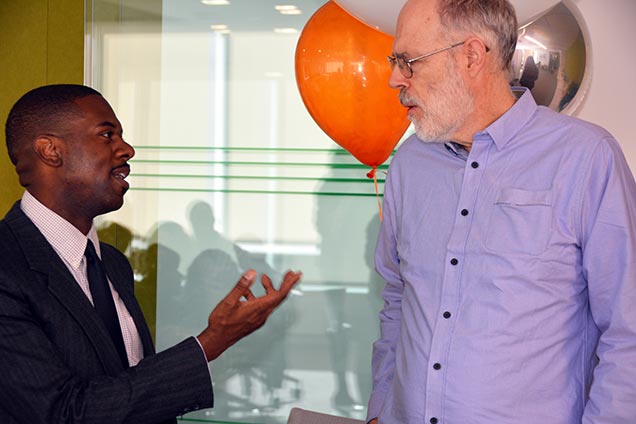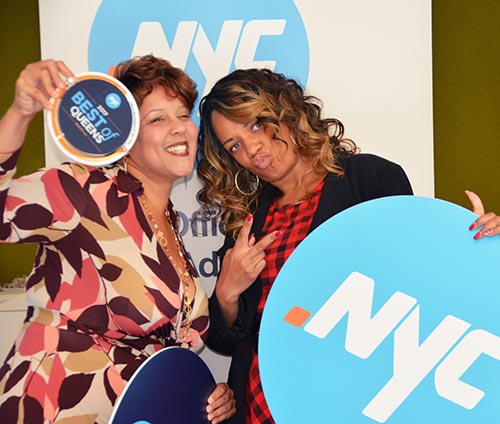 As part of the award, winners were also treated to a free professional photo shoot, including all the rights to the images to be used for their own promotional efforts. The photos will also be featured in an upcoming 2018 .nyc marketing campaign that will run across NYC's public spaces and newsstands.
Sneak peek: Behind the scenes pics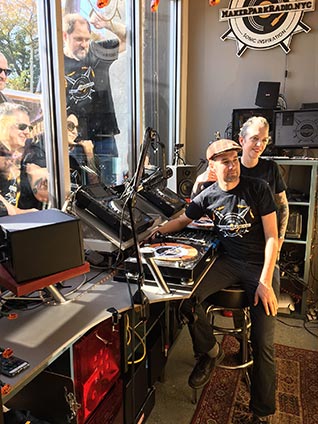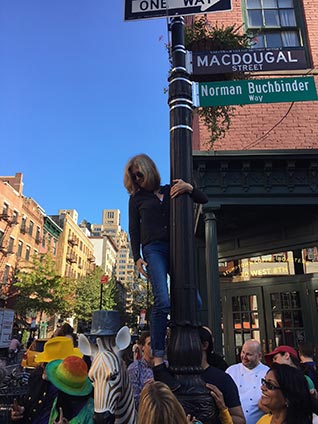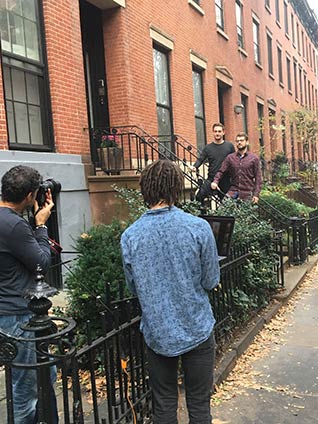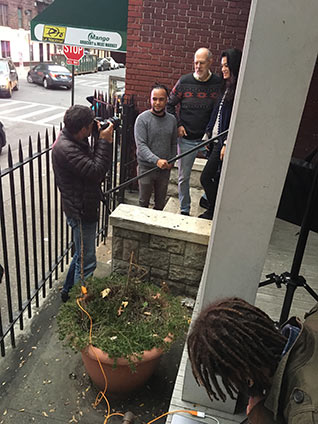 Highlights from the winning submissions
Contestants were asked to describe the inspiration behind their website or organization, and how it contributes to the local community. Here's what the winning entrants had to say.
Borough: Bronx
Inspiration: "The vision of crossing social boundaries inspires New Day Church… We are gay, lesbian, bi-sexual, transgender, queer and straight. We confront racism, sexism and homophobia with God's abundance and compassion. From the forests of the Botanical Gardens to the Hudson River, from the very young to the very old, God has made us beautiful, resilient, creative and loving."
Borough: Brooklyn
Inspiration: "JustFix.nyc is a nonprofit organization that helps tenants fight for their right to a safe and healthy home. Our organization was born from research with tenants and housing advocates across NYC, to pinpoint where technology could play a meaningful role in helping individuals who are facing neglect and harassment in their homes."
Borough: Manhattan
Inspiration: "New York's side streets are home to a rich tapestry of small businesses, each one is special, but together they are the fabric of our city. Manhattan Sideways is a website devoted entirely to supporting and promoting these small businesses on the side streets - to give them the exposure that they do not always receive."
Borough: Queens
Inspiration: "DIVAS for Social Justice is proud to be a community partner to laurelton.nyc, an online platform developed to encourage civic engagement, online organizing and information sharing…. [DIVAS] also wanted to provide a platform that could share the history of Laurelton and the positive stories of the community. "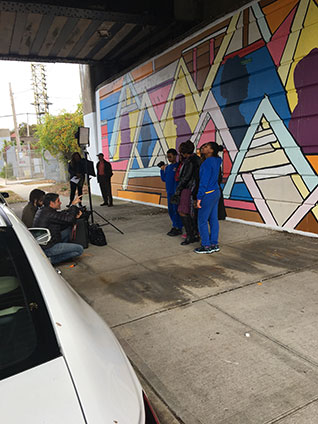 Borough: Staten Island
Local contribution: "MakerParkRadio.nyc is a station that uses arts- and maker-based programming to bring together the community through the love of music and the arts…. We are the soundtrack of Staten Island. [Because] we are in a unique location (between new condo development and low income residents, as well as on the voting line between blue and red), we use this station as a place to use music and art based programs to bring people together."
The caliber of entrants for the inaugural Best of Boroughs contest made for quite a challenge to narrow down the five winners. We are overwhelmed by the dedication, compassion and authenticity displayed by this year's winners and participants. Thank you to our entire .nyc community.
Want to share your .nyc story? Fill out our brand questionnaire to be a featured on our website.