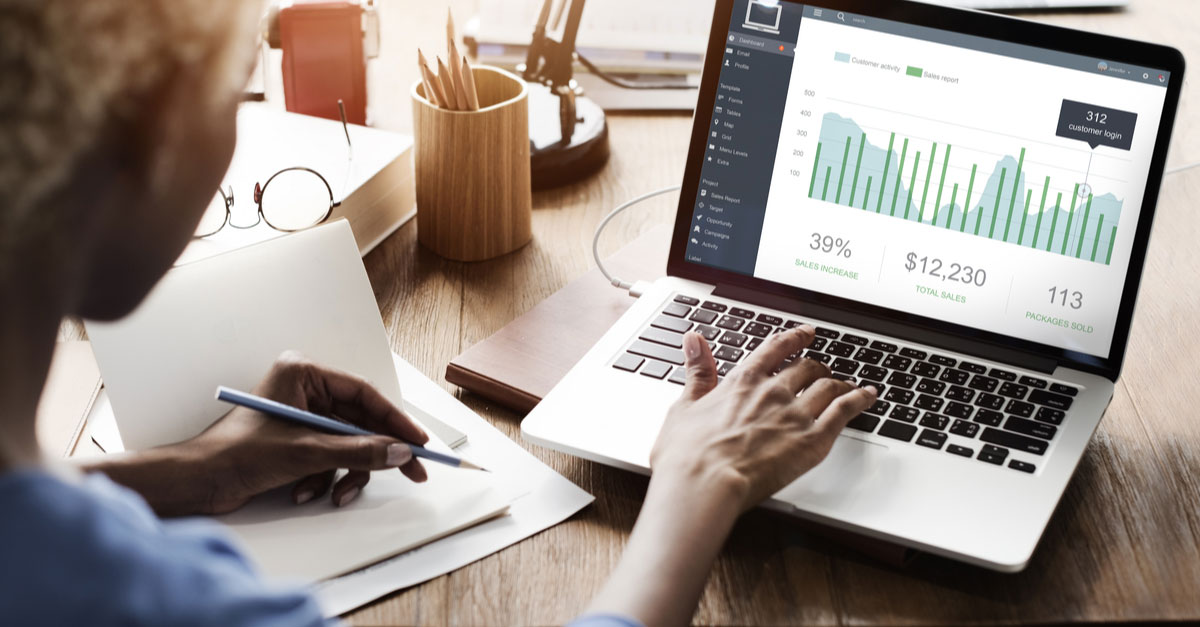 Looking for a way to measure the success of your e-commerce site? It's crucial to monitor key performance indicators such as unique visitors, page views, and click-through rates to discern patterns in customer behavior, gauge the efficacy of ads, determine the best- and worst-performing products, and more.
Those numbers are especially important for small online businesses hoping to attract investors, who will more often than not require proof that a company is trending upwards before agreeing to back it financially. The more detailed the data that you collect, the stronger the pitch you will be able to present—and the more insight you will have regarding which areas of your business could most benefit from additional funding.
Read on for the most popular KPIs to track, and why they're important to keep an eye on.
Average Order Value: How much a customer typically spends on a single order. This dollar figure can help you assess how to price products, learn which ones might be good to bundle, and figure out the items most suitable for upselling or cross-selling.
Bounce Rate: The percent of users who leave a site after only visiting one page. The lower this figure is, the better—a high number could signal that your site's content is not captivating its target audience, and needs to be adjusted.
Conversion Rate: The percent of users who complete any given action on your site—for example, clicking through an ad. The higher the rate, the more engaged visitors are.
Day Part Monitoring: The time of the day your site has the most visitors. Knowing when customers are most active can help you determine when to launch new offerings or promotions.
Mobile Site Traffic: How many users are visiting your site via a mobile device, such as a phone or tablet. If it's a high percentage of your client base, make sure your site is 100% optimized for mobile users—or better yet, create a mobile app.
New vs. Returning Customers: How many visitors are first-time purchasers, i.e. placed an order after having never been to the site before, measured against the number that are repeat customers. If you have many newcomers, it means the marketing strategy you have in place to attract visitors to your site is effective in reaching a wider audience. And if the number of returning customers is high, it signals strong brand loyalty and engagement from your clientele.
Page Views per Visit: The number of pages that users view on average per visit. Though more clicks usually indicate higher engagement, it could also signify that customers are needing to click through more links to find the items they are shopping for.
Product Affinity: Which items customers tend to order together. Identifying this trend can help you figure out the best products and services to cross-promote.
Sales: The total quantity of inventory sold. Retailers should track how many sales are recorded depending on the time of day, week, month, or year.
Shopping Cart Abandonment Rate: The percent of users who desert their basket before placing the order. A high number could indicate that your checkout process needs to be improved.
Site Speed: How fast your website operates. Online shoppers usually won't wait longer than a few seconds for a link to open, so it's critical that all of your landers load as swiftly as possible.
Social Media: The number of followers and likes your brand has garnered across Facebook, Twitter, Instagram, etc. The higher those figures, the stronger the brand awareness and customer loyalty.
Time on Site: The average amount of time visitors spend on your site. The longer shoppers stay on product landers, the more likely they will make a purchase or interact with an ad. That said long times recorded while placing an order might indicate that your site's checkout process could benefit from an upgrade.
Traffic Sources: Where visitors are coming from. Knowing how users are getting to your site can help you pinpoint which of your marketing strategies are most effective. Tons of clicks from Google, for instance, might be due to your SEO efforts, while lots of traffic from Twitter or Instagram could indicate a successful social media marketing campaign.