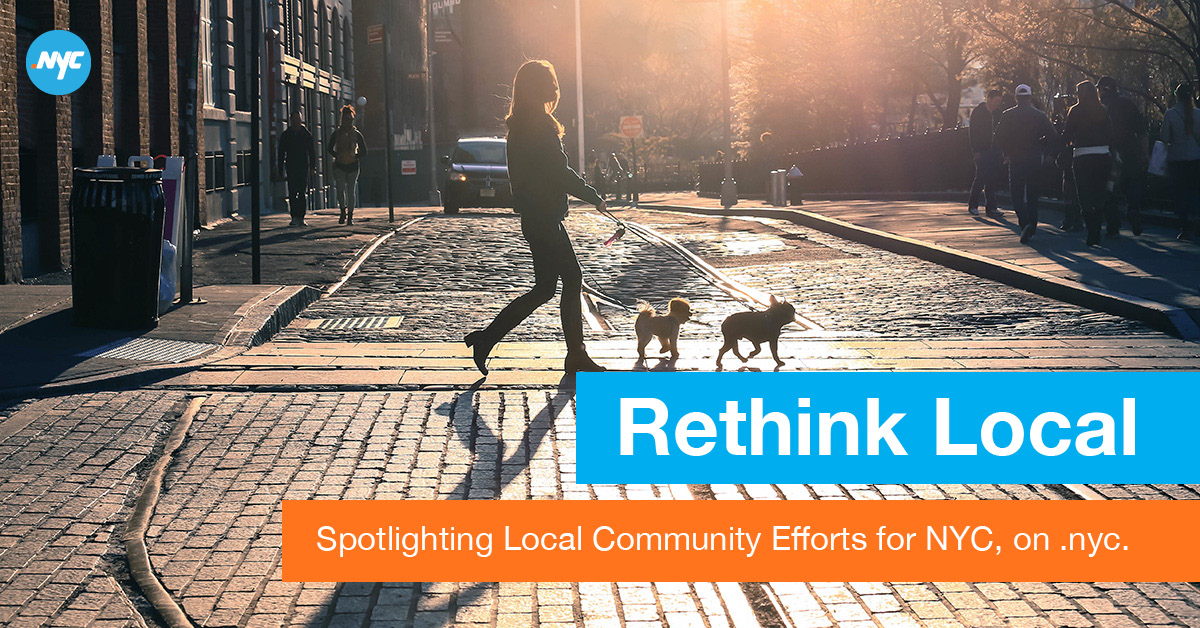 Launched in 2014, the .nyc domain is still a relatively new phenomenon in New York City. Despite its short lifespan, the impact it has had on the City and her people has been great. One of a small list of cities around the world to have its own city-specific domain extension, .nyc has become the largest and most well-known city top level domain in the world (beating out many great cities for the distinction, including .London, .Paris, .Berlin, .Miami and .Tokyo, among others).
One of the most remarkable features of the .nyc domain is that only true New Yorkers can own it. The City of New York wanted to ensure that the .nyc domain would be an exclusive benefit available only to New York City-based businesses, organizations and residents —so in order to register a .nyc domain name, you have to show proof of a physical NYC address in one of the five boroughs.
The exclusivity of owning a .nyc domain has created a new type of local pride that finds its expression online. People are genuinely interested in not only promoting local businesses, but also connecting with the NYC community and sharing the city's rich history. Whether through local events, community organizations or telling the City's stories, the .nyc domain is a place that all New Yorkers can call home.
This article is the second in a series about how the .nyc domain is becoming the platform of choice for New Yorkers to launch their businesses, brands, blogs and big ideas online; and is creating new and unique opportunities for New Yorkers to connect and engage with the greater New York community. See Part I here.
Here are a few of our favorite .nyc websites, which provide a range of resources that you can use to explore New York City in new and exciting ways.
Connecting with local and like-minded businesses
There are so many reasons why supporting local businesses is good for everyone, from boosting the local economy and creating jobs to reducing traffic and offsetting the impact of transportation on the environment.
Luckily, when you live in NYC you're never far from everything you need. Here are two websites that make shopping locally—and really getting to know your local neighborhoods and business owners—easier than ever.
Whatever local business you're looking to find, Developed.nyc is a great place to start. You can use this online directory by simply typing in what you're looking for in the search box at the top of the page. Alternately, you can first choose which of the five boroughs you want to go, and then start your search.
What makes this website particularly great is that all search results are displayed on a handy Google-style map, complete with interactive red pins that you can click for more detailed business information, such as website links. Owners of .nyc websites can add their business to the directory for free, which means new listings are added daily.
Interested in local businesses in Manhattan that are off the beaten track? Then Sideways.nyc is the place to go. This website was started by an owner of a children's bookstore who was interested in exploring Manhattan by criss-crossing the side streets of its iconic grid.
So far Betsey and her team have pounded the pavement from 1st – 116th Streets. Stories of their adventures and unique discoveries are all chronicled with beautiful photographs, videos, short blurbs, full essays, and maps. Use Sideways.nyc to discover something new every day and fall in love with the city all over again.
Connecting with fellow New Yorkers
Famous around the world for being the ultimate melting pot, NYC is so full of interesting and talented people that if you live here you can't help but want to constantly connect. These websites make community building that much easier by providing information about places where you can strike up interesting conversations.
Bookworms who want to get up close and personal with NYC locations described in their favorite books will find Literary.nyc invaluable. Started by a digital cartographer, this website is an interactive map. The map displays circular colored numbers all over the city, which represent the total associated quotes for each area. Click on a number to drill down to specific quotes and their exact locations.
So far, the website has registered 406 locations corresponding with passages in books. It's an excellent resource if you want to read your way across the city and get inspired just like famous authors. What a great conversation starter.
Owners of websites on the .nyc domain are an innovative group. After all, they're the first to recognize the opportunities associated with owning a city domain, which only promises to grow in the years ahead. A group that's passionate about staying on the cutting edge, they've formed their own Meetup group to discuss new ways to promote and use the .nyc domain.
Want to learn how to rank better on SEO or choose a really great name for your .nyc website? Sign up for their meetings, which take place about once per month. They've been around since 2014 and have over 1,000 members, so events are sure to be lively and engaging.
Stay tuned for more….
It's exciting to watch as New York City's digital landscape continues to be shaped by the businesses and ideas that are launching on .nyc domains every day. We will continue highlighting the evolution of the .nyc community in this column in the months ahead – showcasing the innovative approaches to local pride that are being built on .nyc web addresses.
Want to be featured in our next article? If you are a proud .nyc owner with a story to tell, we would love to hear from you. Share your story with us here.