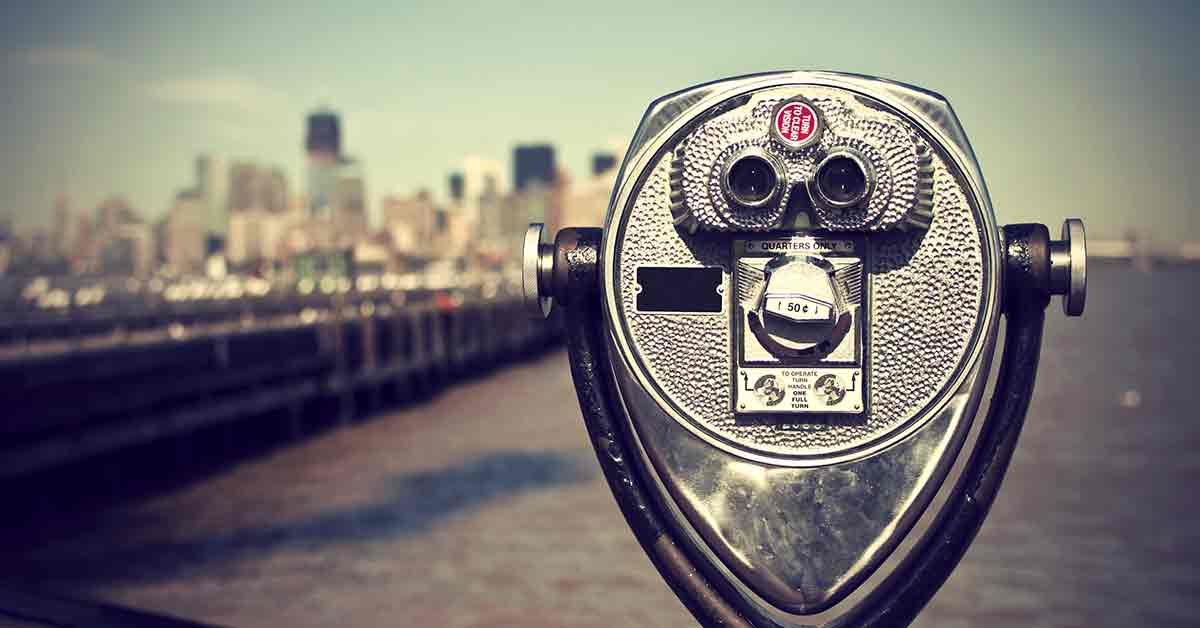 It's been a historic year for .nyc domain names. In honor of our 3rd year anniversary, we thought we'd share a few highlights to showcase the many ways that New Yorkers have helped to build and grow the .nyc domain into something very special. After all, it's your city, it's your domain, and it's all of you who have helped to make .nyc such a great success!
King of the Hill
NYC is not the only major city in the world with its own branded top-level domain. Paris, Tokyo, London, Berlin, Miami, and fifty or so other cities, also have their own branded city domains. Yet only a few can make it among the top of the heap and we're proud to say that our very own New York, New York has made it there!
The .nyc domain extension consistently ranks in the top 3 of all city domains, with just over 74,426 domains registered at the time of this writing. But for .nyc, being the best is about far more than the number of domain names registered -- it's about community engagement, it's about economic impact, it's about driving innovation and spurring entrepreneurship -- and most important of all, it's about New Yorkers bringing their biggest ideas and dreams to life online.
It's amazing to think that the .nyc domain has helped to accomplish all of this! Amazing, indeed.
Be a Part Of It
With all these great .nyc domains in the hands of New Yorkers, many are already showing off their local pride with beautiful and informative websites. Thank you to all of the NYC developers, designers, dreamers, doers, artists, entrepreneurs, restaurateurs, students, teachers and titans who are building the future on .nyc domains -- you've all played a leading role in helping .nyc claim its prominent position and making our city domain an inspiring, diverse and dynamic online home for all New Yorkers.
We could be here all day giving you great examples to show you what we mean – but alas, we know that you don't have all day. So instead, here are just a few cases of New Yorkers doing what they do best on .nyc domains – making great things happen!
First, check out C4Q.nyc, a non-profit organization in Queens that teaches coding and professional skills to talented adults from low-income backgrounds, so that they can go out and create the companies of the future. Or how about YouthAssembly.nyc, an official platform of the United Nations that gives young people a chance to make their voices heard on the global stage. Pretty cool stuff.
But it's not just non-profits that are building the future on .nyc, check out what this division of Time, Inc. is doing over at TheFoundry.nyc, where it has launched an innovative agency that's using data-driven guidance to collaborate with ambitious brands and to build great things. And let's not forget about Link.nyc, the free, super-fast, public Wi-Fi network that has replaced 7,500 pay phones throughout the five boroughs of NYC and has made it easy and convenient for New Yorkers to make phone calls, charge their devices, and access city services, maps and directions.
Of course, no summary of New York City's digital domain would be complete without showcasing some of New York's favorite spots for foodies. First up, MurraysBagels.nyc. Caution, looking at this website will cause immediate mouth-watering and the sudden urge to drop everything for a cinnamon raisin bagel with a shmear of cream cheese. Next up, how about BigNicks.nyc, the Upper West Side pizza joint that will keep you going back for "just one more" slice.
Premium .nyc Domain Names
It was just a year ago that we kicked off .nyc's second year anniversary with the release of thousands of "premium" .nyc domain names. A premium .nyc domain name has a higher intrinsic value than the average domain name, and is likely to be in far greater demand. To date, over 515 premium .nyc domain names have been sold to New Yorkers through the world's leading domain retailers, with a collective value of over $595,157 -- making .nyc domains some of the hottest tickets around in the digital real estate world!
Check out a few examples of the premium .nyc domain names that recently sold through our network of domain retailers over the past year and are waiting to be developed: Lawyers.nyc, dating.nyc, local.nyc, beauty.nyc, smile.nyc and modern.nyc. Of course, the ones we're the most excited to share with you are the premium domains that our customers have already started using for their personal or business brands and big ideas. For example, check out: Moon.nyc, VR.nyc, and Ken.nyc. The prices for these premium names ranged from $255-$7,000.
Ken.nyc, in particular, is a great example of how an individual can build a personal brand with a .nyc domain. Ken simply points his branded .nyc domain to his LinkedIn profile page. Let's face it, it sounds a whole lot better to say "connect with me at ken.nyc," than to try to remember and share your cumbersome LinkedIn profile url!
Going Once, Going Twice…Sold!
Shortly after the premium names released in 2016, we followed up with our very first .nyc premium domain name auction. For the first time ever, 20 of the most highly sought-after .nyc domain names were offered through a public online auction. Super premium domain names like RealEstate.nyc, Apartments.nyc and Studios.nyc, were just some of the gems on the auction block. We held two more auctions over the past year, one fashion-themed during Fashion Week and one tech-themed coinciding with Internet Week in the spring of 2017.
Domain name auctions are a great way to offer high value, premium .nyc domains to the public in an unbiased, transparent way. Bidding was open to all and starting bids were just $500 for the premium .nyc domain auctions. With such a low entry point for high quality domains, auctions make it possible for any bona fide New Yorker to own valuable digital property at a great price. As most auctions go, there are always a few items that spike with high demand during the final minutes of bidding, sometimes reaching tens of thousands of dollars.
In fact, our .nyc premium domain auctions made history with several top-selling domain names, including Shop.nyc for $33,500 and RealEstate.nyc for $21,300.
There were also some excellent premium domain names that ended up going for a steal in our auctions. Here are a few really great deals that some lucky New Yorkers nabbed:
Photographer.nyc - $2,200
UX.nyc - $2,150
Lofts.nyc - $1,200
Chat.nyc - $525
Read more about the value of .nyc domains with the "New Yorkers Guide to .nyc."
Best Of Boroughs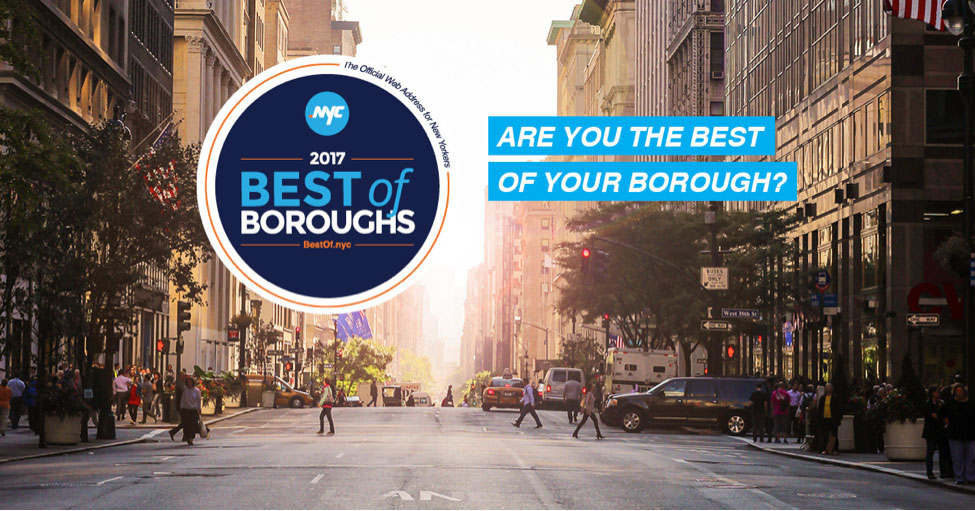 In September, we launched our first Best of Boroughs Contest to help celebrate the use of the .nyc web address. The goal of this contest is to inspire local discovery of people, non-profits, companies and others using the .nyc domain. These are the innovators, the forward-thinkers, the fiercely proud New Yorkers that tell their story online with a .nyc web address. We had over 70 submissions all competing to claim their "Best of Boroughs" title. Our esteemed panel of judges, including Jeff Merritt, New York City's Director of Innovation, had a tough time choosing just one winner from each borough. It was inspiring to see all of the creative ways that .nyc web addresses are being used and proudly promoted by their owners. So inspiring in fact that we've decided to make this an annual event. Make sure to visit the Winners Gallery. Who knows, maybe next year your .nyc website will take home the prize! Make sure to sign-up for our newsletter to stay in the loop.
Your Name up in Lights
Using a .nyc web address for your website just might come with some unexpected perks. You may have noticed some of our advertising around the neighborhood. We proudly feature .nyc'ers in our bus shelter and newsstand advertising – over 300 of them throughout the 5 boroughs!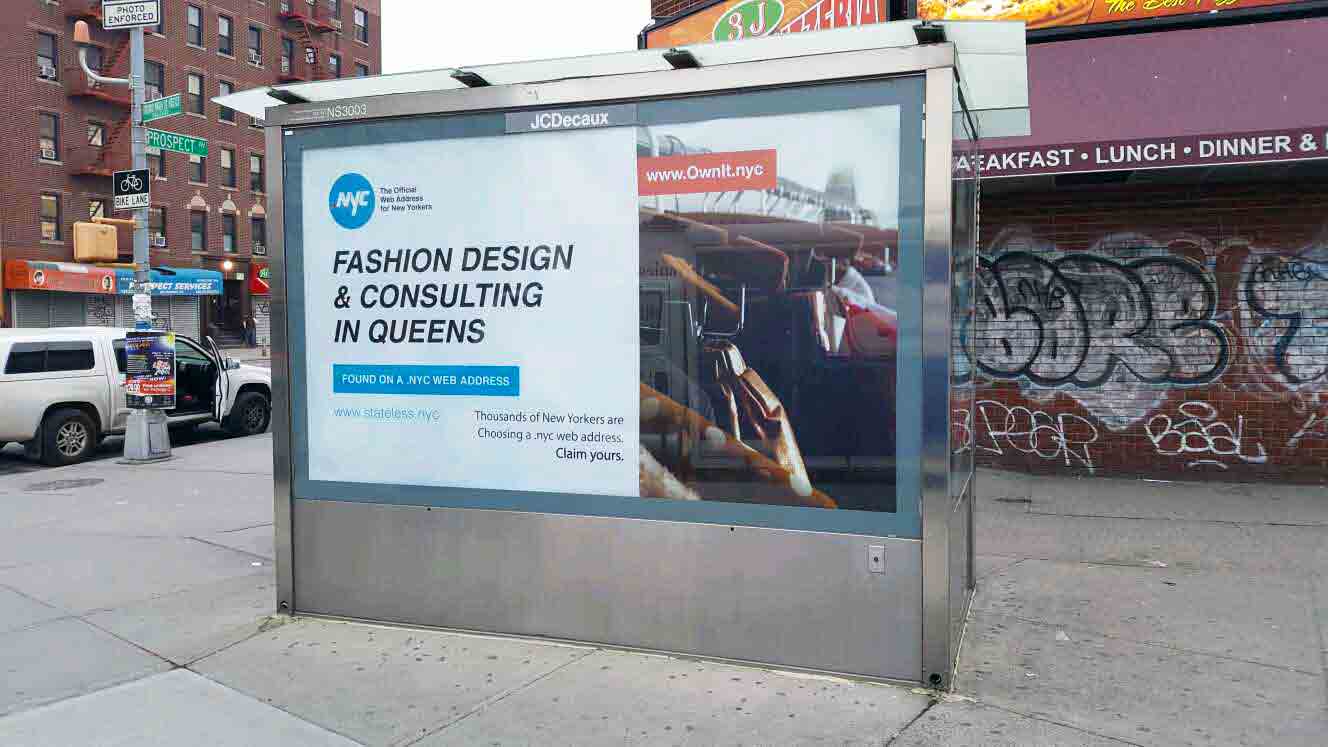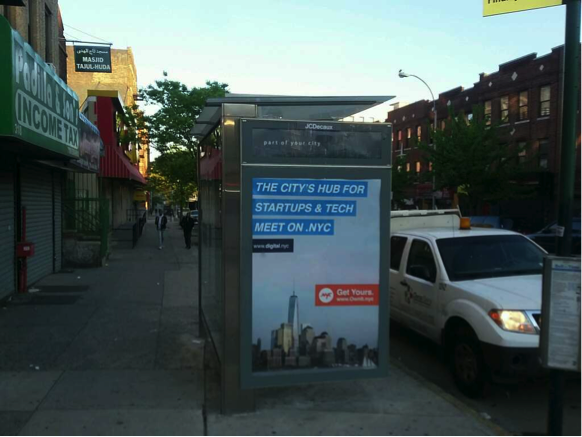 In fact, the winners of our Best of Boroughs contest will be featured in our 2018 campaigns. They also get a professional photo shoot so they'll have high quality images to promote and grow their businesses. Oh, and did we mention our blog and social media channels? Our favorite thing to do here is tout about the interesting .nyc websites we find. So if some day you notice an extra few orders, or an increase in calls or visitors stopping by your shop, it may just be that we noticed your .nyc website and decided to tweet about it (@dotnyc), or post it on Instagram (dot_nyc) or feature it in our blog (ownit.nyc).
Have your own .nyc story to tell? You don't have to wait for us to notice. If you're interested in being featured on our website or social channels, or you know of a cool .nyc website we ought to know about, please tell us about it here.
Onward and Upward!
The future is bright for .nyc – and our growing .nyc community. We can't wait to see more of these uniquely local, digital properties developed with your big ideas, your passions, your businesses, your personalities and your dreams.
We look forward to continuing our support and to seeing all the great things we will accomplish together in 2018!